MeetAir Video Conference Application: Features and How It Works?
A number of video conference applications are available right now on the market. But all belong to a third party and you have to pay if you want any service from them. How well it works if they have a complete online video conference application?
This ensures an end-to-end encrypted free video calling opportunity for private or public both meetings. Yes, we think about that and developed a full multiplatform-based system for online video meetings. Our software name is MeetAir.
What is MeetAir Video Conference Application?
MeetAir is a cross-platform online video conference application for the web, android and iOS. A full responsive application with all devices and browser support. We are using all the latest technology which can easily be implemented and secured.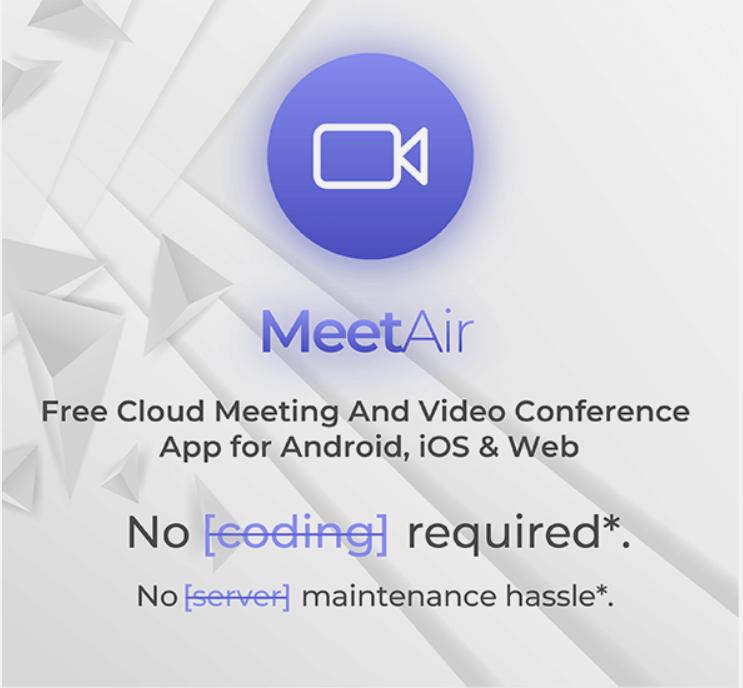 Anyone who has knowledge about web and mobile applications can easily customize the application with source code. MeetAir Provide an easily manageable and powerful admin panel to manage everything of your meeting.
App Configuration
This is a custom application, you can configure the software as you want with your company name, logo, address and contact info. And also you may check all notifications, analyze the data, and see the history of your meeting.
What Are the Advantages of MeetAir?
MeetAir has some extraordinary advantages. You can use MeetAir for your online video conference application.
Such as:
Flutter based mobile application (Android & iOS)
Easily customizable
Don't need technical skills to manage.
Unlimited web meeting.
Any kind of meeting is totally free.
Very secure.
You can make your own video meeting platform.
Why Should I Use MeetAir?
You can use MeetAir for best video conference, for webinar, video meeting, online class, business meeting and so on.
You can use MeetAir for other purposes as well. For example:
Video meeting for your needs.
Arranging live classes.
Web conference purpose.
What Are the Core Features of MeetAir?
Make Unlimited free audio and video calls.
Chat with your partners.
Create a custom meeting and also schedule a meeting then share the meeting code.
To join a meeting login is not mandatory.
Best opportunity to live streaming the video on YouTube and other media.
You can control the conference with a password.
Video recording opportunity.
Cross-platform supported application.
Fast speed and highly secured.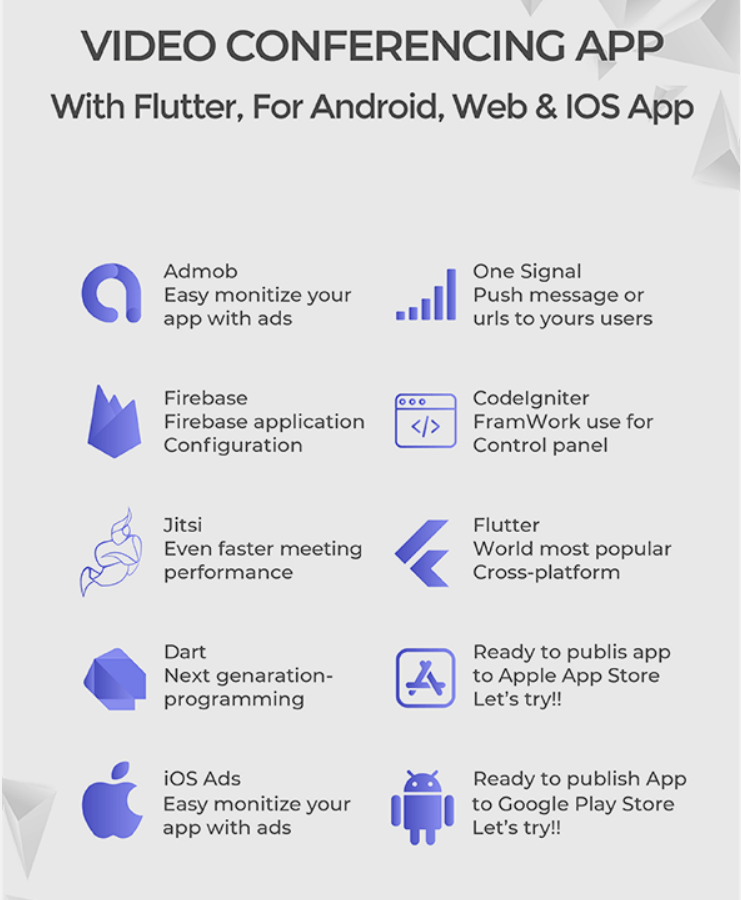 MeetAir Additional Features:
In a meeting, you can participate in a limited audience.
Easy way to register and log in.
Attractive and friendly user interface.
Join meetings on Web, Android & iOS.
You can monetize the application with numbers of ads networks.

UI/UX Features:
Well design
Responsive on every device and browser.
Navigate every feature with others.
Login by on-click with Facebook, Google and mobile phone.
You can share your screen with others.
Completely cloud-based application.
Low cost and time-consuming application.
Security test and quality passed.
Rest API based architecture.
No difficulties with screen maintenance.

What Are the Pros and Cons of MeetAir?
Although, I have discussed the main things about MeetAir, furthermore let you clear the overall shadow of the application pros and cons.
MeetAir Pros
You can make your own video meeting application without any third party access.
Unlimited meeting totally free.
You can use the application for multi-purposes.
Highly secured.
Shareable meeting link.
Video recording opportunity.
Live streaming chance.

MeetAir Cons
To add extra features you have to pay additional fees.
To customize the application needs technical knowledge.

Why MeetAir is Best from Others?
There are a number of online meeting applications right now but nobody will give you unlimited opportunity to host your meeting for free. When I wanted to use it for business purposes I didn't do that without cost.
But someone says, ok no problem I can do it totally free. Didn't Google Meet give the opportunity for a free meeting?
Yes, they do but not for always free and also your data privacy. If you read their privacy policy they will see they say that they will use your data for various proposals for their business.
We have to understand that "free is not always free"
If you use MeetAir, you will get:
Own platform to the unlimited meeting.
Secured platform.
Totally free
Full control by yourself.
Final Verdict
MeetAir gives you an overall good experience for every feature of the application. You can make your own online video conference platform, and also can start a SAAS business as a video calling service, or really use it for your own business meeting platform.
So buy MeetAir ready-made script today on CodeCanyon with a special offer. We may contact us for any help or any assistance, we are SpaGreen Creative always here for you.